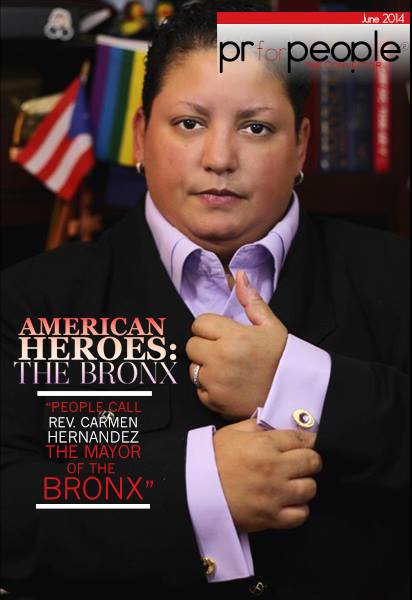 Rev Carmen Hernandez, was born in Rio Piedras, Puerto Rico On April 28, 1963. At the age 6 month old she move to New York City and has live in the Bronx ever since. On her mothers side, Rev. Carmen has nine brothers & sisters. Five brothers and four sisters and she is the eldest of her sisters. From her father side, she has another nine siblings. She is the CEO/Founder/Outreach/Pastor, Stratford Community Services, Inc.(Giving Kids/Youth a Chance). As an advocate/Activist in the Soundview section of the Bronx for the past 30 years, Rev. Carmen has helped empower at-risk inner city kids. Through her efforts and a list of activities that specifically target youth, Rev. Carmen has proved to be a vital part of the South East Bronx community. She has also coordinated Stratford Annual Back 2 School Jam Block Parties for two decades.
Rev. Carmen slowly met and organized small business owners, persuading each business and community to work together as one family. Rev. Carmen carefully realized that the future of our community much depended on building a stronger business outlook and saw the need to empower small business owners to create a positive environment in the neighborhood. Rev. Carmen also helped to build other organizations, such as helping build the Bronx Christmas Parade and is currently working toward 1st Macys Thanksgiving Parade in the Bronx. Ten years ago Rev. Carmen co-founded and was the Senior Vice President of the Bronx Hispanic Chamber of Commerce, Inc. And then had a very important role as co founder, of the Latin Hip Hop Summit at Lehman College, with Mr. Russell Simmons.
Rev. Carmen is most commonly known for making something out of nothing. She is currently the President/Founder of the 1st NYC LGBT Chamber of Commerce, Inc., as well as, one of the original Founders President/Chairperson of Warrior4Luv Productions, Inc., an online music store as well as an online booking and Promotion Company.
Rev. Carmen Hernandez, since 1993, she won so many award for her hard work and community services:
Awards
Rev. Carmen was Honor Mentioned and awarded the Groundbreaker Latina Leader award in the United States in 2006 by Catalina Magazine.

On April 22nd, 2009 Rev Carmen, won the NY State Regional & International Small Business Administration, "SBA" Award.

Rev Carmen also was awarded the Rising Stars Awarding Winners for 2009 by the Department of Labor – Latino Job Service Employer Committee GALA.

On Oct 27, 2009, NYC Council Speaker Christine Quinn, honor Rev Carmen at national clergy appreciation month reception.

On Oct 29, 2009, Comité Noviembre, has awarded Rev Hernandez with the 2009 "Lo Mejor de Nuestra Comunidad" Award.

On December 5, 2009, Rev Carmen was awarded on as the Our Youth's Hispanic LGBT Activist of the Year.

December 10th, 2009, The Morris County Hispanic-American Chamber of Commerce awarded her with "Influential Women behind Hispanic Chambers"

El Diario has nominated Rev Carmen as a recipient of the 2010 "Mujeres Destacadas Award" a recognition given annually by El Diario La Prensa.

On June 28, 2010 Rev Carmen was nominated for the AT&T Bold Honor Award which recognizes an everyday individual in the lesbian, gay, bisexual and transgender (LGBT) community that has made a difference during the past year

November 5, 2011, The Board of Directors of the Puerto Rican Initiative to Develop Empowerment; (PRIDE) have selected Carmen Hernandez-DeArmas as one of PRIDES recipients, she was honored at the PRIDE Awards for the Lesbian of Year category.

On March 30, 2013 Rev Carmen was honor with the justice and community award from MCCNY | The Metropolitan Comunity Church of New York

May, 2014 she is nominated for the Lifetime Volunteer Service Award. 

On July 2015, Rev Carmen Hernandez was awarded for Bronx Volunteer of the year 2015 in the category of lifetime volunteer service award.


On May 15, 2016 Rev Carmen Hernandez, was awarded for the 2016 volunteer achievement award from the Bronx Boro President, Ruben Diaz, Jr.


August 1, 2017 Rev Carmen Hernandez was awarded by Public Advocate Hon. Letitia James, in recognition her exemplary dedication to the community.

December 8, 2017 Bronx Community board 9 – City of NY Award Rev Carmen Hernandez for Watson Ave Tenant Association of NYCHA development for her recognition for her exceptional community service appreciation award.


June 2018 AARP New York celebrates Pride Month and highlights Reverend Carmen Hernandez from the Bronx who formed the first NYC LGBTQS Chamber of Commerce

June 2019 Lyft featuring Rev Carmen Hernandez, & the NYC LGBTQS Chamber of Commerce the people, neighborhoods, and organizations that make this city what it is.

Rev Carmen Hernandez is the Power Woman of the Bronx! 2021 by Bronx Times Newspaper and Bronx Times Reporter and Schneps Media